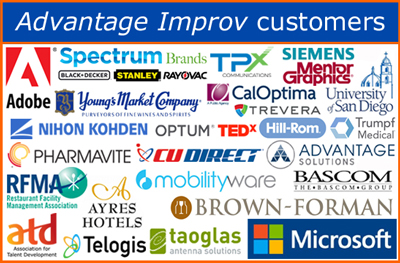 Our Fans Say...
"Thank you so much for yesterday's Advantage Improv team-building workshop. My marketing team really enjoyed it, and your insights are definitely helping us think about how we can improve team communication."

Annie Martin, Senior Marketing Manager, Microsoft
"This was our best meeting yet. Feedback from the team was so positive and, not only did we all learn a thing or two about active listening and effective communication, everyone had a blast as well. Advantage Improv easily exceeded all of our expectations. Lee and Bob were able to creatively craft a two hour improv class tailored to a sales environment while also managing to keep a group of seasoned sales managers and corporate executives highly engaged and having fun. Far from being what most people think of as "improv," Lee and Bob instead used tricks of the improv trade to highlight effective active listening and communication methods easily translated to practical sales techniques.

With Advantage Improv's training, the Ayres Hotels team now possesses another tool to guarantee current and future success!"

Shanna Davis, Guest Loyalty and Marketing Manager, Ayres Hotels
"Liferay hired Advantage Improv to customize and deliver a two-hour workshop for our annual Sales Kick Off event last week. Challenging ourselves and breaking old habits in how we prepare and engage customers in a selling situation wasn't happening. Our sales team needed a catalyst to get their brains going and actively try out a new way of presenting themselves in front of a customer.

Advantage Improv was that catalyst for our sales team, and my hopes are high for the future.

Immediately following our event I heard "Yes, and…" repeated multiple times by multiple people. I've been a personal user of "Yes, and…" for many years, and someone came up to me to explain why they now understood how I was able to handle some tough discussions in the past. They recalled my use of the phrase and were excited to use it themselves.

The team really enjoyed the Advantage Improv experience and it achieved the goals I had hoped for."

Michael Paquin, Director of Sales Enablement, Liferay, Inc.
"I want to thank Advantage Improv for developing and delivering such a valuable workshop for my Global Information Technology and Software group. The team loved the event! The amazing thing about the workshop was that -- after working for so many years with the individuals in this team – this event allowed us to uncover a real-time collaborative and creative side of each member that was not often too visible in our typical settings.

The workshop helped the team learn more about each other which has contributed to strengthening bonds between the team members. It was great to see that! I'm confident that -- following this workshop -- we'll see a boost in behaviors that allow us to build on each others' ideas to drive innovation and collaboration. I have discussed the workshop with other functions in the company and have recommended that they consider Advantage Improv workshops for purposes of team building and strengthening the team's collaboration and communication capabilities."

Alex Obradovic, Director of Global Software Delivery and Information Technology, Beckman Coulter Diagnostics
"Had a delightful collaboration session with a group of high level sales managers with Advantage Improv. Bob and Lee were able to make everyone feel included and helped us easily overcome any group interaction uneasiness. ("I've got your back!") It turned out to be an enlightening experience. "

Demea Metcalf, Director of Sales, Destination Irvine (the official destination marketing organization for Irvine, California)
"Our Advantage Improv event was a great team building experience! Everyone discovered their own strengths and areas that need improvement, all in safe, friendly, fun environment. Highly recommended!"

Darlene Clark, Senior Manager, Learning and Development, TPx Communications
"We used Advantage Improv for a mid-year company event, and we couldn't be more pleased with the experience and results. Lee and Bob did a great job helping our team learn a more positive and results-driven mode of interaction -- and all in a very fun environment. The event was also professionally executed, with a clear and comforting introduction, and through a smoothly transitioning agenda that was used to deepen the participation throughout. I was also very impressed by the business, social, and entertainment acumen Advantage Improv brought to the table. They instantly understood and integrated our business goals and challenges in a seamless manner.

Improv used in this manner is an art, science, and (as Lee mentions) like a muscle that can be strengthened. We found this new way of interaction to be a new asset for us to use in our day-to-day operations. Lee and Bob are truly experts in effectively integrating and managing participants of different personalities, backgrounds, ages, ethnicity, etc., throughout this process.

We highly recommend an event like this with Advantage Improv for any type of group that is interested in improving their modes of interaction and communication."

Mike Bilotta, Chief Executive Officer, Trevera
"...We were really trying to think outside the box this year when planning the curriculum for the RFMA 2016 conference. One of our members suggested Advantage Improv to develop and present a Vendor Relations session. It was a great success and Bob and Lee were amazing to work with! This session made it easy for attendees to interact. Great job!"

Debi Kensell, Education Director, Restaurant Facility Management Association
"Inviting Advantage Improv to conduct their "Yes, And...Hire Me!" workshop with students at the University of San Diego was a wonderful initiative! Bob and Lee led students through a fun, interactive and helpful event that pushed our students to stretch in their ability to communicate their strengths to potential employers. It was an outstanding program. By using improv, students felt more confident about interacting in what is typically a stressful situation. Bob and Lee are smart, professional, and really understand the audience with whom they're working. We'll definitely have Advantage Improv back on campus."

Robin Darmon, Director, Career Development Center, University of San Diego
"We had a wonderful, fun time with Advantage Improv. We were amazed how much improv can help improve our communication and relationships. This was an evening we will always remember and we will use these new skills daily!"

Laura Garrett, Global Support and Services Division, Mentor Graphics, a Siemens Business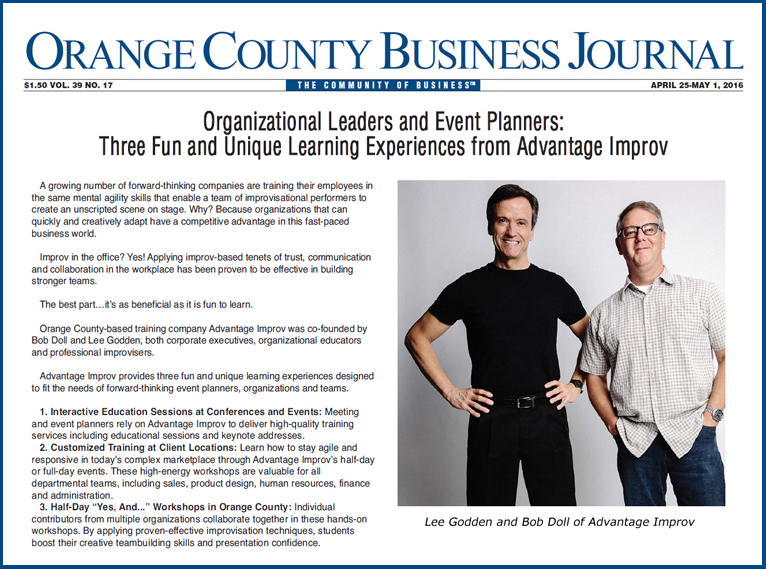 "Advantage Improv created and delivered a fantastic program for our Orange County chapter of the Association for Talent Development (ATD-OC). Bob and Lee from Advantage Improv tailored the program to our audience of trainers and talent development specialists. Everyone loved the content, the engagement, and the entire presentation for its energy, experiential learning and skill development. Our members are a tough audience with extremely high expectations. Advantage Improv surpassed every one of them."

Jeffrey Hansler, ATD-OC 2016-2018 President
"Advantage Improv's "Yes, And…Hire Me!" workshop was a valuable learning experience for my Personal Development for Career Readiness students here at UCI's Paul Merage School of Business. Trainers Lee Godden and Bob Doll prepared and delivered an interactive, high-energy curriculum that integrated well with the communication principles and skills I teach. It was delightful to see how the students reacted with each other during the improv exercises. Advantage Improv created a safe, inclusive environment that minimized students' fears about being "on stage" in front of their peers. I loved how the improvisation-based mental agility skills they taught are practical and actionable in the real world of job search, career development and interpersonal relations.

The students and I are grateful for the workshop. I hope to see Advantage Improv back at UCI for additional programs in the future."

Valerie Sheppard, Faculty, The Paul Merage School of Business, University of California, Irvine
"The Advantage Improv guys presented a unique approach to improving selling skills. They were highly professional with no time wasted."

Jim Roos, President of Ayres Hotels
"Bob and Lee are such dynamic leaders. The environment they create at Advantage Improv is the perfect mix of fun, delight, challenge, safety and teamwork (not to mention funny British accents). As a complete beginner to improv I felt like I was part of the troupe from the onset. The exercises were perfect at connecting the participants and getting us in sync to begin creating improv performances. I learned a lot about myself during the 5-week class. I learned I don't always go all in, but when I do it sets up my teammates for success and we can do anything! I also learned that improv, like dancing, can be truly amazing when the performers are connected by a sense of reciprocity with each other and their audience. I can't wait for the next class!"

Andy Shouse, graduate of Advantage Improv's 5-week Improv for Personal and Professional Development (IPPD) workshop
"Bob Doll expertly helps people experience thinking on their feet in a fashion that builds their confidence to apply in real world applications."

Victor Broski, Chair, OC Speakers Bureau
"I took this course with my wife and an employee of mine. My personal belief is we learn best by doing...being hands on, and this class was that. You're up and doing some skit, exercise, process, etc. every few minutes. It's fun and challenging. I'm glad to have done it!"

Lindon C., graduate of Advantage Improv's 5-week Improv for Personal and Professional Development (IPPD) workshop
"I was very impressed with Advantage Improv's preparation, creativity and ability to translate the improv skills we practiced into real life application. Bob and Lee managed to keep a diverse group of 30 sales managers, general managers and corporate executives thoroughly engaged during our two-hour class. Advantage Improv really thought "outside of the box" to deliver relevant sales and communication training that will help us be a more agile, customer-focused company."

Jhoanna Belfer, Director of Sales, Ayres Hotels
"As an Eagle Scout I learned that the Scout's motto is to "always be prepared." I am quite good at planning the future and/or living in the past. What I have been wanting, though, is to improve being present. Knowing this about me, no less than three of my friends in one month suggested I take a class in improv to help with this goal. Had to be a sign, right? Last week I completed 5 weeks of improv and want to encourage anyone with the same goal to check out Advantage Improv. Bob and Lee developed a program that helps you push and challenge one's comfort zones, while also making you feel completely safe. I was so impressed by the classes that I signed up for the next 5-week IPPD workshop!"

Adam Alexander, graduate of Advantage Improv's 5-week Improv for Personal and Professional Development (IPPD) workshop
"Phenomenal energy since the moment I walked into the room."

Greg Santos, graduate of Advantage Improv's 5-week Improv for Personal and Professional Development (IPPD) workshop
"Lee Godden is the organizational trainer you've always hoped you'd one day meet. It's been my privilege to participate with Lee and his Advantage Improv co-founder, Bob Doll, at a TEDx event before an audience of 400 highly energized teens. It's also been my privilege to experience Lee in his business leadership role. This former Brit, renaissance man blends his professional improviser skills with his years of business leadership into an easily embraced, fun-filled, professional and safe environment in which all participants leave with skills that can enhance both their private and their professional lives. It is without hesitation that I recommend Lee Godden and Advantage Improv. Connect with him. I've a hunch you'll be glad you did. If you're really lucky you may catch a glimpse of Lee in his classic Monty Python mode."

Linda Frost, Marketing Specialist, HR Advisors, Inc.
"Improv helps me to build relationships and rapport more quickly."

Michele Rudo, Real Estate Investor
"What an incredible class! I thoroughly enjoyed the experience. Thanks Bob and Lee!"

Jennifer Barish, graduate of Advantage Improv's 5-week Improv for Personal and Professional Development (IPPD) workshop
"...Engaging and thoughtful. Chock full of insight."

R. Hashima, Veloce Inc.
"I would recommend this class. It gets you out of your comfort zone."

Anastasiya C.
"I highly recommend Lee Godden as a qualified, informative and engaging professional speaker. We have asked Lee to consider speaking at upcoming trade conferences and events that we manage."

Denise Miller, VP of Marketing and Conferences, The Golden Group
"One of the best presentations in the entire conference. Excellent."

J. Prather
"Aside from being fun, I think it's rare to be challenged in so many different ways in such a short period of time. The variety of exercises forced different kinds of thinking creatively."

Dale L.
"...Provided a new perspective to help drive sales success."

David Ahee, Senior Vice President of Worldwide Sales, ThinkEngine
"Thank you for your presentation today to our Los Angeles branch. Your fresh approach was welcomed by our sales staff. You left us with plenty to think about...i.e. new ways to build customer relationships, how to convey our selling message, as well as dealing with the daily stresses. I'd recommend your training to any team in need of a fresh perspective."

Bob Rickard, Vice President & Branch Manager, Panalpina
"The attendees all learned several valuable lessons from your presentation. We have already seen improvements in profitability by implementing your suggestions."

Becky Weber, Vice President, WDC