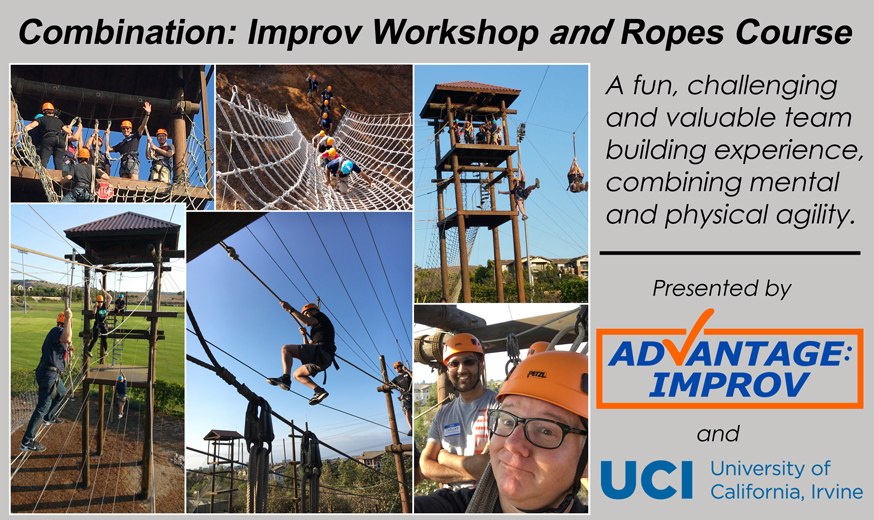 We start these two-part events with a 90-minute applied improvisation workshop in our Irvine classroom. After lunch we lead our customer's team members to the University of California, Irvine, to take on the Odyssey Ropes Course.

Donning helmets and safety harnesses, we split into teams, each with a ropes course instructor. Up a mesh rope we climb to the first station at 50 feet high to begin the first of several course sections. Each section is uniquely challenging, with some requirements seeming impossible at first (ex: "Jump out to the first wood plank").

As individuals we face some degree of personal doubt and fear. As a group we collaborate to problem-solve and physically support each other, in order to make it to the next station. Together we all complete the course, which ends in a fun zip line to the ground.

Comments from participants include, "Wow!" "What a rush!" and "Incredible!"


A growing number of forward thinking organizations are training their employees in the same mental agility skills that enable a team of improvisational performers to create an unscripted scene on stage.
Improv in business? Yes, and... it's as beneficial as it is fun to learn.
Applying improv-based tenets of trust, communication and collaboration to the constantly changing stage of the business world has been proven to be effective in building stronger teams.